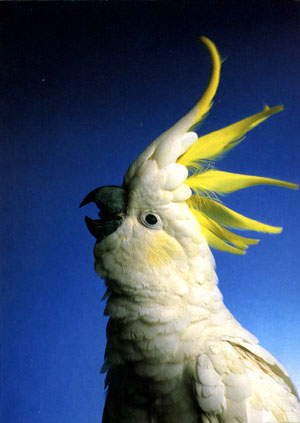 Don't get me wrong, I love my native wildlife. Even noisy, messy, hordes of little (well, not so little) fellas like this one above, when they decide to destroy my lemon trees, my passionfruit vine, my cumquat trees and my lime tree. Squawking and flapping their enormous wings, I forgive them every time.
My timber window sill is witness to the fact that they will try to eat anything. Recently, they tasted some styrofoam packaging which can't have been too appetising.
So, rewind 3 weeks, my internet connection started dropping out intermittently, gradually getting worse until Saturday when it disappeared altogether.
Today, Mr. Optus Man came, reassured me, oh no, everything outside is fine, it must be something inside. Physically impossible, I say, as I have reconfigured absolutely everything inside hundreds of times over the last few weeks.
15 mins later, he says, the outside cable is water-damaged. I said how did the water get in. Cockatoos have been pecking the PVC coating on the cable, and the rain has got in. An hour and a half later, we have a new cable installed.
But how long will this one last? How do I prevent future cockatoo attack? You can't, says Mr Optus Man.
So, are there thousands of people all over Australia, having their cables replaced time and time again due to cockatoos pecking them?
Have our government's security personnel looked at the possibility of Jamai'ah Islamiah training their own suicide bomber cockatoos to destroy our national telecommunications system?
Did the Pope, during his visit last week, innocently admire our native parrots, without realising they are actually terrorists, spying on him?